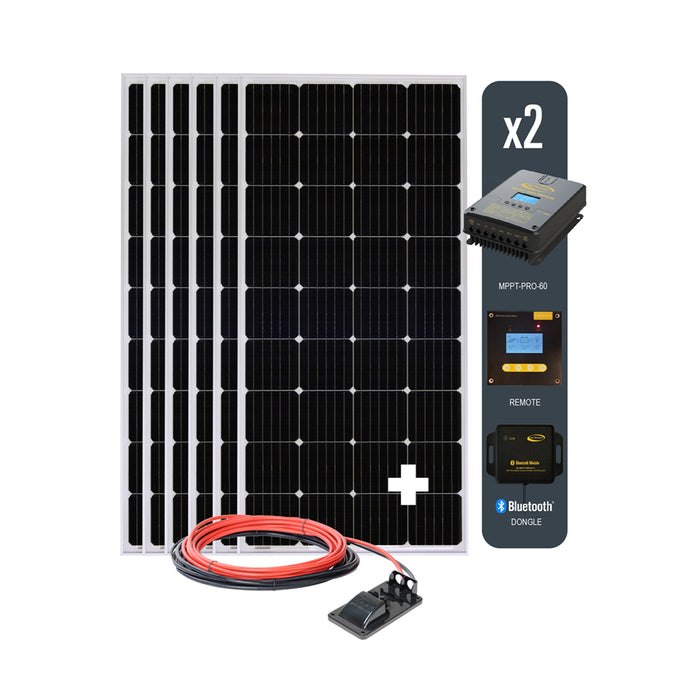 1140-Watt Solar All-Electric Kit
Our largest solar kit! Ideal for larger RV's with large power demands. The all-new Solar AE-6 allows you to charge batteries when large draws are present.  The multi-panel kit, provides 1140 watts / 55.8 amps of output power, making it ideal for charging power-hungry appliances in your RV, like an all-electric refrigerator. Choosing a solar charging kit for your RV eliminates the need for conventional battery charging systems, such as generators. Take your next adventure off the grid with the Solar AE-6 kit.
The Solar AE-6 kit comes with a 25 year limited power output warranty.  This system is ideally paired with one of our INVERTER CHARGER to power your AC loads.
Kit Includes:
1140 watts / 55.8 amps solar charging kit
2x 60-amp MPPT Pro Solar Controller (sync'd together)
1x Bluetooth Dongle (optional)
1x Digital Remote Display (optional)
2 x GP-CEP-25 – 25' Cable Entry Plates with 25' of cable

Mounting hardware (6 x GP-MH-4-KB)
25-year solar module power output warranty
PAIR WITH:
Go further off-the-grid with the NEW Go Power! 
250Ah Lithium Iron Phosphate solar battery
. Built specifically for mobile applications, this deep cycle battery is ideal for use in an RV.
The Go Power! Inverter Charger is a breakthrough product that provides top features, quality, and performance at an economical price. The inverter charger is a 3-in-1 system combining an inverter, battery charger, and automatic transfer switch. This saves space and simplifies installation by reducing the number of devices and cables to install.