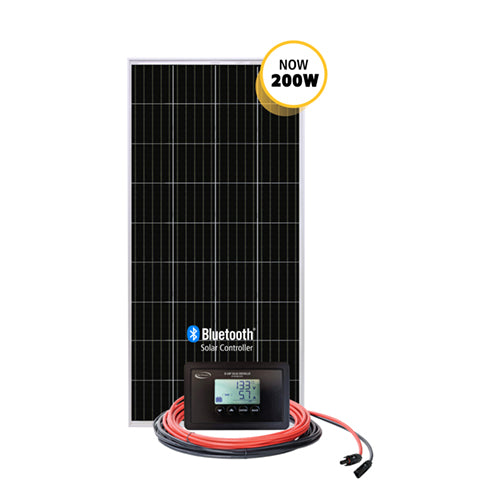 Overlander Solar Kit (200 watts)
As seen on
Overlander Solar Kit

The Overlander allows you to enjoy the peace and quiet without a generator, and no longer worry about draining your batteries while away from grid power. The Go Power! Overlander is the largest single 12-volt solar charging kit on the market, with 200 watts and 9.6 amps of power charging capability. This powerful battery charger is great for maintaining the charge in all types of batteries and is ideal for extended RVing or dry-camping. This kit is included with our complete solar and inverter systems: SOLAR EXTREME, SOLAR ELITE, and WEEKENDER ISW.

*Best paired with 200+Ah of AGM Battery Power, or 100+ Ah of Lithium Battery Power.
Included in the Overlander Kit:
200W solar module (GP-PV-200M)

30-amp single-bank, Bluetooth® PWM Solar Controller

(

GP-SB-PWM-30-BT

)

25′ of solar output cable – RED (#10)
25′ of solar output cable – BLACK (#10)
Mounting hardware (1 x GP-MH-4-KB)
---


Perfect Balance of Power Needs and Price
Rugged, reliable, high-quality solar panels and components provide ample battery charging at an economical price.
---
Advanced Solar Technology
The Bluetooth®-enabled, GP-SB-PWM-30BT is a 12 volt flush-mounted, single-bank, photo-voltaic (PV) charge controller rated for a continuous solar current input of 30 amps. Easy to install with screw cover plate, and features improved Bluetooth® performance for remote system monitoring. Included in most popular kits. Available in Wired for Solar™ pre-wired RVs.
---
Ready-to-Install Kits Include Cables & Mounting Hardware
Everything you need to install and mount the panel is included, along with easy to follow, detailed installation instructions.
---
The Advantage of Wired For Solar's Cable Entry Plate
The Cable Entry Plate helps ensure a water-tight entry point and quick-connect set-up between the rooftop solar panels and inside wiring. It features:
Tough UV-Resistant Construction: designed to withstand sun and extreme temperatures, making it highly durable and long-lasting
Water-Tight Seal: prevents interior water damage from rain and snow
Vibration Proof Connectors: ensure cables stay tightly connected no matter how bumpy the road is
---
Exclusive Bonus: Go Power! 200-watt Inverter
Receive a bonus 200-watt pure sine wave inverter with every Overlander kit purchased here! Small, lightweight and portable, this inverter can power TVs and charge cell phones, tablets & laptops. Just plug into your vehicle's 12V accessory socket and it is ready to go.
---
Specifications and Product Comparison
Eco 80 Kit


(80 watts)

Overlander Kit


(200 Watts)

Overlander Kit + Expansion


(380 Watts)

Recommended for:
1 battery
1-2 batteries
3+ batteries
Solar Panels
1
1
2
Dimensions (each panel)
(in) 30.31 x 26.77 x 1.1
(mm) 760 x 670 x 30
(in) 59.1 x 26.3 x 1.57
(mm) 1500 x 668 x 40
Weight (each panel)
15.4 lbs / 7 kg
26.4 lbs / 12 kg
Solar cell type
Monocrystalline
Output power
80 W
200 W
380 W
Rated current
5.47 A
9.3 A
18.6 A
Rated DC voltage
17.5 V
19.1 V
19.1 V
Open-circuit voltage
21.0 V
22.5 V
22.5 V
Connectivity
Solar connectors
Solar controller
10 A, PWM
30 A, PWM
30 A, PWM
Frame type
Clear anodized aluminum frame
Certifications
CE
Warranty
Solar Power Output: 25 years
Charge Controller: 5 years