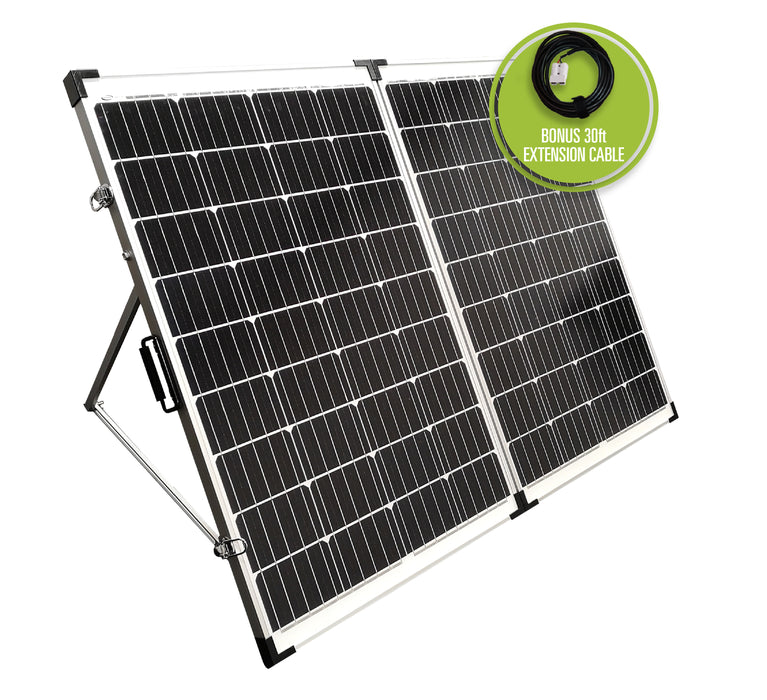 200 watt Portable Solar Kit
Portable Solar Kit Features
Go Power!'s largest mobile solar kit, 200-watt Portable Solar Kit (PSK) folding solar modules offer some of the most versatile and convenient battery charging options for those who don't want to permanently mount solar to a rooftop or want to supplement a roof top system. The Anderson-style battery charging connectors allow you to quickly interchange the charging accessory to best suit your needs – from maintaining your RV or trailer battery while on the road to trickle charging your car, ATV or boat battery.  Adjustable folding legs to maximize solar exposure and for compact easy storage. Multiple charging connectivity options. Includes a heavy duty nylon case for storage protection.  They also are a great supplemental solar kit to a roof top kit.
Easy to Install & Highly Durable
Rugged, high quality solar panels simply plug into your RV's "Solar on the Side" outlet. Quickly and easily unfold from storage, set in the sun, plug in, and your batteries begin charging immediately. Built-in adjustable legs lets you choose the panel tilt to maximum sun exposure.
Advanced Solar Technology
With a 30 amp PWM single-bank solar charging controller, your batteries will always get just the right amount of charge to maintain power. The controller also protects batteries from damaging overcharge and extends their life.
The LCD digital screen displays your battery bank's current charging status including charge current, battery voltage and battery capacity.
---
Convenient Storage Case
Protect your investment by folding and storing the solar panels and accessories in the included heavy-duty nylon carrying case.
Alternative Battery Connectivity
Included in the kit are alternative cable adapters to connect your portable solar panels to batteries by ring terminals or battery clamps.
Exclusive Bonus: Go Power! 30ft Extension Cable
Every solar kit purchased here receives a bonus 30 ft extension cable, valued at $70.00! Use the extra cable length to park your RV in the shade while leaving the portable panel in the sun!
Specifications and Product Comparison
200-Watt PSK
130-Watt PSK
80-Watt PSK
Solar cell type
Monocrystalline
Monocrystalline
Monocrystalline
Output power
200 W
130 W
90 W
Rated current
11.4 A
6.7 A
4.6 A
Rated DC voltage
17.6 V
19.7 V
19.8 V
Open-circuit voltage
21.1 V
23.8 V
23.6 V
Connectivity
Battery clamps, Quick connectors, Ring terminal connectors, SAE solar plug adapter, XLR-style solar plug adapter
Solar controller
30-amp Single Bank
10 A, PWM, built-in
Frame type
Silver anodized aluminum frame, built-in adjustable folding legs
Certifications
Dimensions Closed (H x W x D)
39 x 26.4 x 5.6 in / 1005 x 670 x 70 mm
32.5 x 19.9 x 2.8 in / 824 x 503 x 70 mm
21.7 x 19.9 x 2.5 in / 550 x 505 x 65 mm
Dimensions (open)
39 x 52.8 x 2.8 in / 1005 x 1340 x 70 mm
32.5 x 39.8 x 1.4 in / 824 x 1006 x 33 mm
21.7 x 39.8 x 1.3 in / 550 x 1010 x 33 mm
Weight
40 lbs / 18 kg
33 lbs / 15 kg
19.8 lbs / 9 kg
Warranty
25 years (module) / 5 years (controller)