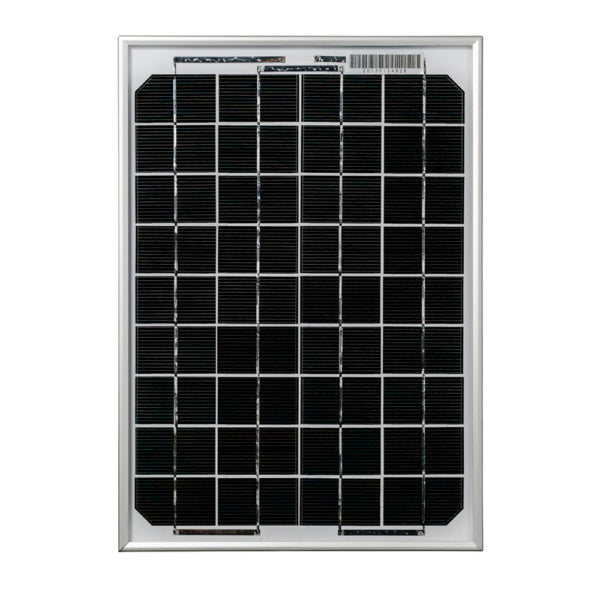 Eco 10 Solar Kit
The Go Power! Eco Solar Kit is the economical solution to keeping your batteries charged and healthy while away from grid power--replaces the need for a generator. This kit provides 10 watts and 0.62 amps of power charging capability.     
Perfect Balance of Power Needs and Price
Rugged, reliable, high quality solar panels and components provide ample battery charging at an economic price.
Ready-to-Install Kits Include Cables & Mounting Hardware
Everything you need to install and mount the panel is included, along with easy to follow, detailed installation instructions.
Specifications and Product Comparison
Specifications

Rated Power (Pm)

80 W

20 W

10 W

Maximum Power Voltage (Vmp)

18.4 V

17.5 V

17.5 V

Maximum Power Current (Imp)

4.35 A

1.14 A

0.57 A

Open Circuit Voltage (Voc)

22.8 V

21.6 V

21 V

Short Circuit Current (Isc)

4.60 A

1.21 A

0.62 A

Cell type

Monocrystalline

Monocrystalline

Monocrystalline

Max System Voltage

1000 VDC

600 VDC

600 VDC

Weight

13.2 lb (6 kg)

3.97 lb (1.8 kg)

1.7 lb (0.8 kg)

Dimensions

30.71 x 26.46 x 1.38 in

(780 x 672 x 35 mm)

13.58 x 18.50 x 0.98 in

(345 x 470 x 25 mm)

13.19 x 9.25 x 0.98 in

(335 x 235 x 25 mm)

Frame type / material

Clear anodized aluminium frame

Warranty (Limited Power Output)*

25 year

10 year

10 year