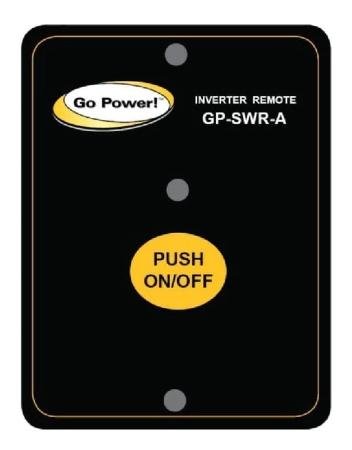 PURE SINE WAVE INVERTER REMOTE GP-SWR-A
Save 40% off MSRP while supplies last!
The Go Power! Pure Sine Wave Inverter Remote GP-SWR-A works with all Go Power! ISW inverters, as well as the 1000, 2000, 3000, HS1500 watt pure sine wave inverters.
The new compact GP-SWR-A remote features an LED indicator showing inverter status, ON/OFF switch and 25' of cable. This remote can be used with all GP-ISW inverters, the GP-HS1500, GP-SW1000, GP-SW-2000, and GP-SW3000 inverters. GP-SWR-A is compatible with both 12V & 24V inverters. 
SPECIFICATIONS
| | |
| --- | --- |
| Input Voltage Range | 10.5-60VDC (Based on the battery input voltage of the inverter—it can be used for 12V, 24V and 48V inverters) |
| Operating Temperature Range | 0-40°C |
| Storage Temperature Range | -30°C – 70°C |
| Standby Current Draw | <40 mA |
| Applicable Models | GPSW-150/GPSW-300/GPSW-600/ GPSW-1500/GPSW-2000/GPSW-3000 |
| Efficiency | 85-90% |